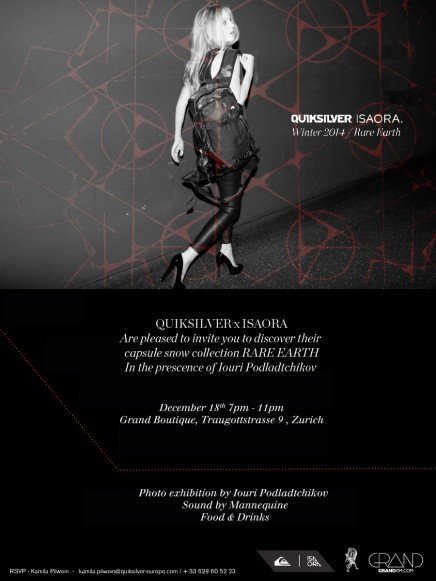 Dear Friends
QUIKSILVER and New York based brand ISAORA teamed up for working on a powderday freeride capsule. We are very happy to invite you to the release of the RARE EARTH collection at GRAND Boutique. IOURI PODLADTCHIKOV will exhibit his photographic interpretation of the collection.
QUIKSILVER X ISAORA Rare Earth Collection
Photo Exhibition by IOURI PODLADTCHIKOV
DJ SET by RUBEN CASSIANO
Food and Drinks
GRAND Boutique, Traugottstrasse 9, Zurich
7 pm -11 pm
For all folks in X-mas shopping mood, we combine this event with a 'friends and family' shopping evening and offer you a 30% discount from 7 am – 9 am at the GLOSS and GRAND Boutique.
See you on Wednesday!